Fire and Life Safety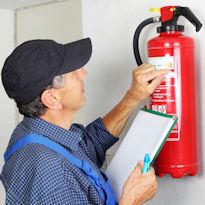 "The safety manager should have a working knowledge of basic fire science and chemistry. A fire, or combustion, is a chemical reaction. An understanding of the chemical reaction is the basis for preventing fires, as well as extinguishing fires once they initiate." — Daniel E. Della-Giustina Fire Safety Management Handbook, Third Edition.
"Fire protection includes procedures for preventing, detecting, and extinguishing fires. The procedures in these three areas of fire prevention aim to protect employees and property and to assure the continuity of a plant's operations. To accomplish these goals, it is necessary to develop a plantwide fire protection program. — Accident Prevention Manual for Business & Industry: Engineering and Technology, NSC Pub.
Practice quizzes contain questions from this topic. Thirty- and 100-question exams contain questions from multiple topic areas.
Practice Quizzes - 2 3 4 5 6 7 8 9 10 11
30-Question Practice Exams - 1 2 3
150-Question Practice Exams - 1 2 3 4 5 6
Study this topic at OSHAcademy